Mascha Vang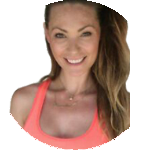 I attended Marbella Zumba & Fitness Camp in June 2013. We stayed just outside Marbella at Finca Naundrup which is a really nice place owned by a Danish family. The Personal Trainer there is Frank Naundrup, who, amongst others, has been a Personal Trainer for Professional boxer Brian Nielsen, when he had to get fit to box against Evander Holyfield. Every day there were classes, which we could attend. We tried all the different classes. I loved them all, but especially the boxing was great!
Cross Training is hard work and I don't think I could have done it without the motivation from the instructors. Zumba... My friend and I are not good at dancing but I would love to be some day. And then Body Attack… OMG – That's all I have to say… That is definitely a full body workout and your pulse will reach its max if you allow it. Most of the time I was on the floor staring at the instructor.
Every day we chose the classes we wanted to attend. The camp included breakfast, lunch and dinner and also fresh fruit. The last night there was a great pool party. A pool party is a MUST!
It was an amazing camp and I'm sure I will attend again.