Kristoffer Ruvang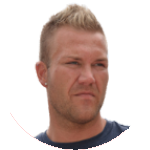 After attending Marbella Zumba & Fitness Camp in June and September I will highly recommend anyone to go! From the minute you get off the plane, there are lots of super fun workouts, sun and good atmosphere. You will be picked up and brought to the camp so it is easy right from the start.
I like that there are many different classes including cross training, boxing , yoga and my personal favorite Zumba!
All the classes are held by the very inspiring and joyful instructors who are very passionate and serious about giving participants a great experience and they push one to perform at its best. There's always a really good and electric atmosphere, with great music so the adrenaline pumps and the sweat runs under the hot sun of Spain.
When there are no classes we relax in the beautiful surroundings at Finca Naundrup, where you can take a dip in the pool, sunbathe or go hiking in the mountains. There's delicious healthy food and the staff is always ready to assist and hospitable. In the evenings we usually sit and socialize with other participants and get to know each other.
My favorite thing about the stay is that the whole experience is structured and organized so you can choose what you want to mix the variety of activities ! I 'm already looking forward to get going again.